---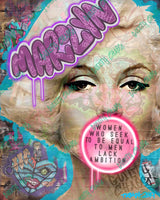 NEOn Marilyn Monroe piece. This print features all the same detail as the first with added neon sign POP!! 
Marilyn Monroe original art inspired piece. Her iconic stare and sensual pose with bubblegum pop and one of her famous quotes " Women Who Seek To Be Equal To Men Lack Ambition "  Guilty Chaos original graffiti background. Perfect urban art meets pop culture collaboration . 
** Please note the "Guilty Chaos" water mark repeating diagonally through the page is only to protect my art & will not appear on your awesome print!!